Date
Tuesday, 08 Sep 2015 5:30 PM
JBNF-Biomed and IBT (Israel Brain Technologies) presents: 

Entrepreneurship & Innovation in Brain Technologies for Epilepsy
Tuesday, 8th, September, 2015 17:30
(The presentations will be in HEBREW. ההרצאות יהיו בעברת).
The field of epilepsy is exploding with innovations and opportunities. This event is intend to bring the different players in Israel, from academia, clinical world and industry together, to get to know what is going on and to explore possible inter-disciplinary synergies. Traditional medicine and bio-medical engineering are getting a boost from computer analytics, data mining and wearable computing (real time monitoring) to not only produce more powerful therapeutics but to develop predictive medicine, capable of alleviating and possibly preventing epileptic seizures. 
PROGRAM:
17:30 Networking and Refreshments
18:00 Greetings with Michael Horesh, JBNF-Biomed
            * Pitchs on Novel Innovation on Epilepsy
18:15 – 19:00 Panel on "Brain Technologies for Epilepsy"
Panel Moderator – Michal Balberg, Tel Aviv University, and project manager at Medial Research Ltd. She was co-founder of the successful Or-Nim.
Panelists: 
• Dr. Dana Ekstein,  Head of the Epilepsy Center, Hadassah Medical Center, JLM and Member of the Hadassah Brainlab 
• Avi Yaron, Chair, BioLert Ltd
• Hagai Shmueli, director of EYAL – Israel Epilepsy Association 
19:00 – 20:30 Networking and Refreshments
ABOUT THE EVENT:
IBT – Israel Brain Technologies is partnering with JBNF-Biomed to hold a joint September 8th meet-up in Jerusalem on Epilepsy.

IBT 's mission is to push forward breakthroughs in brain technology.  This is achieved by organizing meetup events, every couple months and in different locations, bringing doctors, innovators, researchers, entrepreneurs and investors in the BrainTech arena together, to meet, discuss, and generate fruitful interdisciplinary cooperation.
IBT was created by  Israel's President Shimon Peres in 2010 as the brain technology hub in Israel.  
JBNF-Biomed is focused on created a vibrant eco-community of bio – professionals and entrepreneurs in Jerusalem to accelerate the life science R&D and industry in the City.
The last IBT meetup took place in July and was on the topic of Traumatic Brain Injury (TBI) .
"Epilepsy should receive more focus from industry then it does now," says Dr.  Michal Balberg.  "I hope the upcoming meetup will be the starting point that will lead to cooperation and ultimately implementation of new approaches to managing and treating epilepsy."
The "Meetup" events are instrumental in bringing to the forefront the particular challenges involved in different arenas," explains Miri Polachek, Executive Director at IBT. "For example, most of us know what our health baseline is in different areas –blood pressure, cholesterol etc.  But we don't know what our normal brain function looks like and it's unique to every individual.  So when someone experiences Traumatic Brain Injury doctors can't compare their brain scans to what that individual's brain looks like pre-injury."  One of the matters discussed at the TBI meetup was creating a brain scan database of people, so that if someone experiences TBI the medical team will have a much better picture of the situation.
Startups and scientists in the field of Epilepsy will be invited to deliver short pitches on their activities.
Sponsored by the JCT – Lev Academic Center, Israel Brain Technologies  and JBNF-Biomed, the Jerusalem Business Networking Forum – Biomed Division. JBNF-Biomed is the forum for bio entrepreneurs and professionals in the Jerusalem area. 
RVSP to reserve your place. There is a 20 NIS entrance fee to the event. 
Bring business cards for the great networking!
For questions, contact us at info@jbnf.org
About our invited Panel members:
Dr. Michal Balberg 
. Senior Visiting Scholar and Project Manager. Tel Aviv University
Dr. Michal Balberg is a seasoned entrepreneur in the field of medical devices. Project manager at Medial Research Ltd., focused on epilepsy seizure prediction She co-founded and led OrNim Medical from inception till commercial sales. Ornim develops and markets noninvasive monitoring devices based on acousto-optics. Dr. Balberg received her Ph.D. in Neural Computation, focusing on optics, volume holography and neural computation, from the Hebrew University of Jerusalem in 1998. Between 1998-2001, she was a Fellow and a Visiting Assistant Professor in the Beckman Institute, University of Illinois at Urbana-Champaign, IL, USA. She joined the OMNI group in March 2015, and is in charge of the Momentum project for commercialization of interferometric technologies for clinical applications.
Dr. Dana Ekstein M.D., Ph.D.
Hd, Epilepsy Center, Department of Neurology, Hadassah Medical Center, Jlm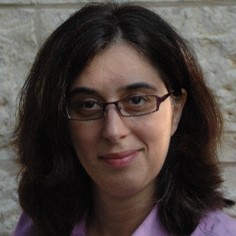 A senior neurologist from Hadassah Medical Center in Jerusalem and a member of theHadassah Brainlab . She did her fellowship in the Department of Neurology, Epilepsy Unit, at Beth Israel Deaconess Medical Center in Boston, Massachusetts. 
Avi Yaron, Chair,  BioLert Ltd
Chair of BioLert Systems, developers of EpiLert, a hand (or foot) worn watch-like Sensor Unit, which detects and processes the specific vibrations of epileptic seizures and transmits an alarm to an Alert Unit with the parents, caregivers, or at medical control centers etc.
Avi  was first an officer in the Israeli intelligence forces and later worked in R&D at Eldat Communications, which provides communications solutions to the retail industry. Avi was CEO and co-founder of MotoTech which developed advanced ignition systems for motorcycles. He was among the developers and instructors at the advanced microprocessor lab at Tel-Aviv University, Israel. After a brain tumor was detected by coincidence, Avi became deeply involved in the minimal invasive surgical field. After experiencing the shortcomings of the existing technology first hand, he founded Visionsense in 1998 to find better solutions. Visionsense is the leader in miniature surgical stereoscopic cameras, selling its systems in the US, Europe & Asia.
 
Hagai Shmueli, director of EYAL – Israel Epilepsy Association 
Director of EYAL – Israel Epilepsy Association and Business Development Director at Politi Advertisements, a Jerusalem based PR, branding and marketing agency. B.Sc. in Health Management from Tel Aviv University and  M.Sc. in Crisis Management from Arieli University Center.